Intelligence Will Always Be Beautiful: Corey Angelo, Founder of Wanderfuel
At Onomie, we love any chance to hit the road, explore new places and meet amazing new people. But spending hours on the highway or hopping a redeye to a new locale often comes with some less-than-desirable side effects, like unhealthy airport food, lack of sleep and dehydration. Thankfully, Corey Angelo, founder of Wanderfuel, has created a wellness-first solution for weary travellers everywhere. We spoke with Corey on her love of travel and the concept behind Wanderfuel, which is all about giving your body the upgrade it deserves.
How did you get started in your career and how has your career progressed?
I started in journalism working at Men's Fitness and Glamour magazine at a time when print was grappling with digital shifts, and transitioned to digital advertising. I've always enjoyed content creation and design, but after several years working on a number of processed CPG brands between NYC and London, I didn't feel my professional path was in line with my personal, and launched Wanderfuel to align the two. Founding a company is not easy, but I've never felt as fulfilled.
What has been your biggest career highlight to date?
Working for almost 2 years on a major partnership that will change the in-flight experience - I can't say more, but stay tuned for the announcement!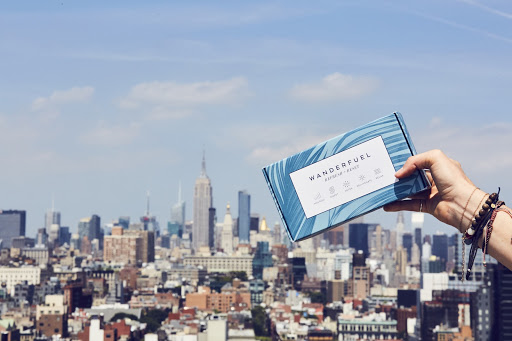 We love the concept behind Wanderfuel. Tell us how the idea came about and what the mission behind it is.
I was on a plane almost every week while working in London, and fed up with the lack of healthy options throughout the travel experience. It blew my mind that wellness, a $4.2T market, hadn't infiltrated the travel & hospitality market and I saw the opportunity to create a better offering. Our mission is to simply make it easy to feel good on-the-go, providing all-natural and organic snacks and amenities that promote wellness.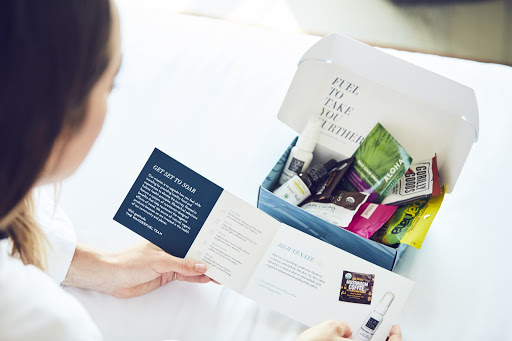 What's a beauty secret you can share with our readers?
I am obsessed with Moroccan color changing lipstick. I discovered on a trip to Marrakech - the green and gold tube packaging looks rather suspect, but it goes on the perfect shade of glowy pink. It's formulated with Argan oil so it feels hydrating and the color stain lasts all day. I restocked on Amazon but it wasn't the same, so brought back a ton on my last trip to Casablanca. The green is the best - don't waste time on the blue or orange ones, the stain isn't as long lasting!
What are your top 3 desert island beauty products? Your absolute must-haves.
Impossible to pick 3, but obviously my Moroccan lipstick and since we're talking desert, the next obvious one is organic coconut oil for hydrating all over (plus SPF 4!. My hair stylist Carlos Ortiz has turned me on to using as a leave-on mask. Coat on mid shaft to ends for at least 20 minutes and then wash and condition as normal. Lastly, going to say Kopari Starry Eye Balm which contains caffeine to help de-puff the eye area, and leaves a subtle gloss that makes you feel put together sans make-up.
Do you have a mantra when it comes to beauty?
I don't know if it's a mantra, but I really enjoy the ritual of a good skincare routine. After a long day, I love a little exfoliation and leave-on mask. Current favorites in rotation are Lesse Ritual Serum, Beautycounter Overnight Resurfacing Peel and Kopari Coconut Detox Mask.
Do you have a mantra when it comes to your career/life?
'I am open to the good and abundance of the universe' is my opening mantra in meditation. Really feeling into the power of manifestation effects all outcomes in life and career. When you reframe your story to understand anything is possible - it does come to you. The biggest hurdle is always pushing past mental blocks, and that takes practice, so dedicating time to do the work, be patient, and kick-ass, for me has been transformative.
What's the last book you read (and loved)?
Getting More by Stuart Diamond I can't recommend enough. Unlike 'Getting to Yes', this book teaches you how to get more in all areas, and paramounts the importance of defining your goal and using a set of strategies to get you there. Whether you're negotiating with customer service to a serious business deal, the 12 strategies Diamond outlines will get you more when put to work.
How do you balance a busy career with your wellness/fitness/self-care?
Having an Ashtanga Mysore practice. I've always been very active, between springboard diving to pole vaulting through university, and then got deep in the Classpass mentality of trying something new every day. But in recent years, I've found having the same practice first thing every morning to be incredibly liberating and grounding. It brings such freedom in knowing that anywhere you go, you have this set of movements designed to clear your mind and strengthen your body. My yoga mat has been around the world! It's resulted in a lifestyle that means an earlier bedtime, but I now cherish the early mornings alone and enter the day with a sense of calm and balance. 
What makes you the happiest?
Anywhere with a beach! I grew up on water, so a morning spent water skiing, running, rollerblading (I know, I'm cool) under the summer sun is the absolute best feeling.
Leave a comment