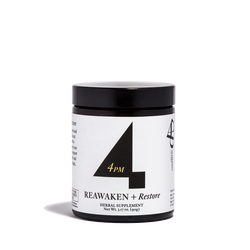 CAP Beauty
The O'CLOCKS: The 4PM
Product Tagline
Details
It's about time. The O'Clocks, our collection of adaptogenic blends, supports you through the peaks and valleys of your day. The 4PM, our midday offering, reawakens and restores and wards off the mighty afternoon slump. Goji delivers vitality with a mighty dose of Vitamin C and all eight amino acids. Rhodiola sharpens focus while Astragalus and Codonopsis support immune function, digestion and fight the drifting energies of low blood sugar. Rehmannia supports the adrenals and promotes longevity while Reishi offers yin support so we sail through the afternoon in graceful calm. Sweetened with a dose of Luo Han Guo, also known as Monk Fruit, The 4PM is all you need to revive. The O'Clocks were created for us by Master Herbalist Rehmannia Dean Thomas. Let his knowledge guide you. Time is on your side.
Gluten Free. Vegan.
Instructions
Mix ¾ teaspoon into warm water, tea or smoothie of your choice.
Ingredients
Astragalus (Root) Extract, Codonopsis (Root) Extract, Goji (Fruit) Extract, Rehmannia (Root) Extract, Luo Han Guo (Fruit) Extract, Reishi (Fruiting Body) Extract, Rhodiola (Root) Extract. 90g/3.17oz
Gluten Free. Vegan.
*These statements have not been evaluated by the Food and Drug Administration. This product is not intended to diagnose, treat, cure, or prevent any disease.