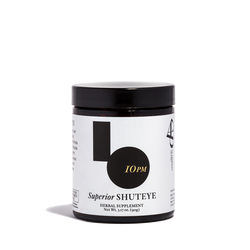 CAP Beauty
The O'CLOCKS: The 10PM
Product Tagline
Details
Sleep tight. The O'Clocks, our collection of adaptogenic blends, supports you through the peaks and valleys of your day. And your night. Our evening tonic, The 10PM, invites you to your soundest slumber, with Spirit Poria to calm the mind and center the heart. Jujube is known to relieve insomnia, aid digestion and detoxify the blood, while Albizzia Flower brings contentment and further supports your deepest sleep. Chinese Skullcap quells anxiety and supports the immune system letting sleep be your time to heal. Polygonum Stem and Pearl put the beauty in your sleep and Luo Han Guo, also known as Monk Fruit, sweetens the deal. The O'Clocks were created for us by Master Herbalist Rehmannia Dean Thomas. Let his knowledge guide you. Let nighttime be the right time.
Gluten Free.
Instructions
Mix ¾ teaspoon into warm water, tea or smoothie of your choice.
Ingredients
Zizyphus (Jujube Seed) Extract, Polygnonum (Stem) Extract, Spirit Poria Extract, Albizzia (Flower) Extract, Chinese Skullcap (Root) Extract, Luo Han Guo (Fruit) Extract, Mother of Pearl Extract. 90g/3.17oz
Gluten Free.
*These statements have not been evaluated by the Food and Drug Administration. This product is not intended to diagnose, treat, cure, or prevent any disease.