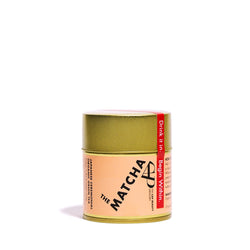 CAP Beauty
The Matcha
Product Tagline
Organic, ceremonial grade matcha to uplift and energize.
Details
Follow in the footsteps of the masters of meditation and drink in your focus. The CAP Beauty Ceremonial Grade Matcha is USDA Organic Certified and sourced from Shizuoka, Japan. Matcha is known to enhance mood and create a relaxed alertness while supplying a surge of antioxidants and life force minerals. We love our Matcha by itself mixed in hot (not boiling) water, or as an addition to the CAP Beauty Elixir. Drink it in. Begin within. 29g/30 Servings
Gluten Free. Vegan.
Instructions
Add 1/2 teaspoon of The Matcha to your favorite tea cup or bowl. Add 3 ounces of hot (not boiling) filtered water. Whisk well in zig-zag patterns until tea is dissolved and a pretty foam appears on the surface. A bamboo tea whisk works best for this. You can adjust the amount of Matcha or water to your liking. Drink in vibrant health.
Ingredients
Organic Green Tea From Shizuoka, Japan. 29g/30 Servings
Gluten Free. Vegan.
*These statements have not been evaluated by the Food and Drug Administration. This product is not intended to diagnose, treat, cure, or prevent any disease.