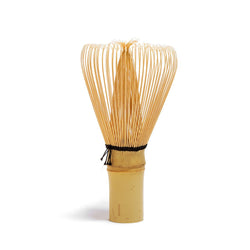 CAP Beauty
The Japanese Matcha Whisk
Product Tagline
Details
Immerse yourself completely in the art of Japanese tea ceremony with this bamboo whisk. The Kubo studio, a family business now in its 24th generation, has been passing on the tradition of bamboo whisk-making since the Muromachi Period (over 500 years ago). These tools are made in the Takayama area of Nara Prefecture, a cultural center of production for traditional matcha accessories. This whisk fully integrates the matcha powder into the liquid, and aids in creating a delightful top layer of froth. Can be used with CAP's The Matcha or any other powdered ambrosia. Uplevel your beverage ritual.
Instructions
Whisk Matcha until pretty foam appears.
*These statements have not been evaluated by the Food and Drug Administration. This product is not intended to diagnose, treat, cure, or prevent any disease.