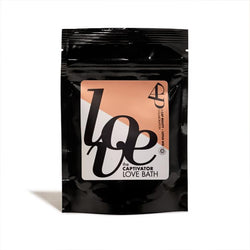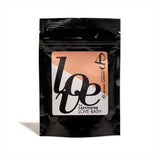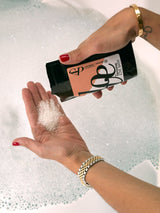 CAP Beauty
The CAPtivator Love Bath
Product Tagline
Epsom salt, mineral bath soak with sandalwood, neroli and sage.
Details
Bathe and be love. When it comes to unwinding, CAP takes selfcare seriously. The Love Bath transforms, marrying vibrational flower energies with the rejuvenating and healing powers of salt. Powerful minerals and the heart-opening scents of The CAPtivator come together to open your portal for love. Sandalwood, Neroli and Clary Sage soothe the nervous system as the mineral bath detoxifies and assists lymphatic drainage. Bring your body into harmony and soak in the love. Love and magnetism come alive. Each package is good for one beautiful bath. 99.2g/3.5oz
Gluten Free. Vegan.
Instructions
Pour a hot bath. Get into the tub and pour the salt at your feet. Soak it in and feel the love.
Ingredients
Epsom Salt, Santalum Spicatum (Sandalwood) Oil, Amyris Balsamifer (Amyris Oil), Pelargonium Graveolens (Geranium) Oil, Rosa Damascena (Rose) Oil, Citrus Deliciosa (Petitgrain) Oil, Citrus Auratium (Neroli) Oil, Salvia Sclarea (Clary Sage) Oil, Abies Balsamea (Fir) Oil, Piper Nigrum (Black Pepper) Oil, Citrus Sinensis (Navel Orange) Flower Essence, Gardenia Tahitensis (Gardenia) Flower Essence, Securigera Varia (Crown) Flower Essence, Nelumbo Nucifera (Lotus) Flower Essence. 99.2g/3.5oz
Gluten Free. Vegan.
*These statements have not been evaluated by the Food and Drug Administration. This product is not intended to diagnose, treat, cure, or prevent any disease.