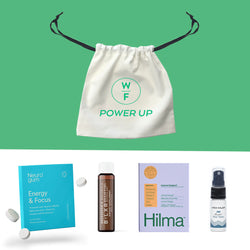 Wanderfuel
Power Up
An energizing mix of self-care tools designed to enhance the morning ritual. Refresh, strengthen and feel revitalized with this set of our all-natural favorites.

Kit contains:
Neuro Gum Energy & Focus - Peppermint
Beekeeper's Naturals B.LXR Brain Fuel
Hilma Immune Support
Ursa Major Facial Tonic Spray
How to Use:

Energize
Neuro Gum provides 9 pieces of optimum energy using natural caffeine and L-theanine from green tea to focus your mind and provide mental endurance.
Chew 1-2 pieces whenever you need a boost.
Focus

B.LXR is caffeine-free, plant-powered, and packed with brain-loving adaptogens to naturally support thinking power and brain health. Featuring royal jelly, ginkgo biloba, and bacopa monnieri, B.LXR is essential for anyone looking to hunker down and get things done. We recommend:
⅓ VIAL for daily support & maintenance 
½ VIAL for upgraded performance 
1 FULL VIAL for PEAK brain power      
Strengthen

Hilma Immune Support is formulated with only premium natural ingredients clinically proven to support the immune system. With a refreshing lemon ginger taste, this daily immune strengthening routine features 6 essential ingredients backed by doctors: Vitamin C, Zinc, Ginger, Turmeric, Echinacea, & Ivy Leaf.
Mix packet with hold or cold water and stir to dissolve.
Refresh

Ursa Major's Essential Face Tonic Spray is a 4-in-1 multi-tasker that cleans, exfoliates, soothes and hydrates - leaving your skin feeling refreshed, firm and alive.
Mist over face as part of your morning skincare routine, and reapply whenever skin needs a refresh.