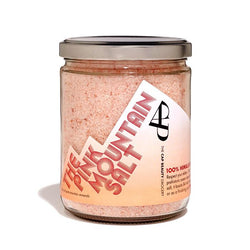 CAP Beauty
Pink Mountain Salt
Product Tagline
Mineral salt to promote wellbeing and proper bodily functions.
Details
Sourced by hand from the foothills of the Himalayan mountains in Pakistan, this fine ground crystal salt is packed with 84 vital minerals and trace elements to sustain and promote complete body function and wellbeing. This salt encourages remineralization and we know that true beauty begins within. The Pink Mountain Salt amplifies the flavor of any dish. Perfect for adding to high vibe chocolate treats, sprinkling over savory dishes or even around the rim of a margarita glass, this pretty salt is the ultimate addition to any kitchen. 454g/16oz
Gluten Free. Vegan.
Instructions
Use for cooking or as a finishing salt.
Ingredients
100% Himalayan Pink Salt. 454g/16oz
Gluten Free. Vegan.
*These statements have not been evaluated by the Food and Drug Administration. This product is not intended to diagnose, treat, cure, or prevent any disease.