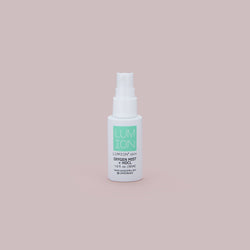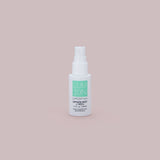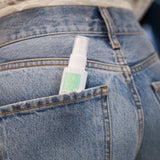 LUMION life
MINI MIST
1 oz | 30 mL
Packed with the same power as our Miracle Mist, but mini. Keep one or two with you at all times. Mist your face, hands, and friends.
LUMION mist will cleanse, purify, hydrate and calm your skin as a daily on-the-go rescue. LUMION's formula is eco-friendly + non-toxic.
The star ingredient HOCL naturally occurs in your white blood cells which helps to defend your body from harmful bacteria, viruses, and inflammation. Applying HOCL to the skin activates an immune boost that helps the skin take itself back to its natural and beautiful state.
Get ready for a skin health transformation! This mini mist will keep you and your skin healthy, clear and glowing.
100% NATURAL + LOVES ALL SKIN TYPES
WHEN + WHY | quick on-the-go cleanse for face + hands, calm skin irritations, cleanse post workout, soothe post sunshine, set makeup, hydrate + cleanse during travel, all day hydration

DIRECTIONS | Close your eyes. Mist generously on face and neck. Repeat all day long because you can't overuse me. 

INGREDIENTS | electrolyzed oxygenated water, sodium chloride (Dead Sea salts), hypochlorous acid
FREE OF | alcohol, parabens, fragrance, phthalates, sulfates, gluten and dye.
VEGAN + CRUELTY FREE
PH NEUTRAL
DERMATOLOGIST TESTED + APPROVED
CLINICALLY PROVEN
MADE IN USA
1% of your purchase will be donated to Kula Project