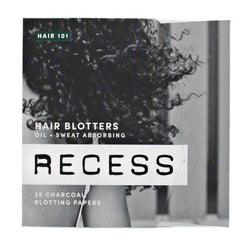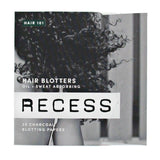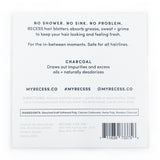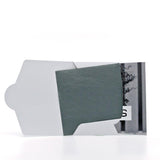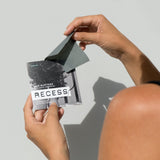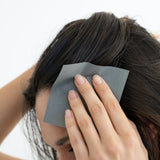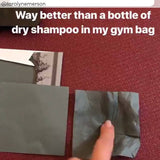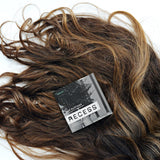 myrecess
HAIR 101: Hair Blotters (25 blotter papers)
Oil + Sweat Absorbing

RECESS hair blotters absorb grease, sweat + grime to keep your hair looking + feeling fresh. Making good hair days last longer. Award-winning!

A spray-less, lighter, healthier dry shampoo.
The key when using these is to gently rub the blotter on the scalp and get to the roots, rather than the surface of your hair. Check out some helpful usage tips in the directions here, and below. 

KEY INGREDIENTS
Charcoal: Draws out impurities, excess oils + naturally deodorizes. 
Hemp: Eco-friendly + nontoxic paper alternative.
Less harmful + lighter than dry shampoo (no powder, no aerosols or spray). The blotters work by removing grime without damaging hair follicles. 

Safe for all hairlines.
Remove blotter paper and rub gently on your hairline, throughout your roots, the back of your neck, and your part line. Paper turns translucent when fully saturated. For extra sweat, use an extra sheet.
ALL INGREDIENTS
Bleached Kraft Softwood Pulp, Calcium Carbonate, Hemp Pulp, Bamboo Charcoal. 
FREE FROM
This product is free from 10 harmful ingredients that cause skin irritation: aluminum, parabens, sulfates, phthalates, triethanolamine, sulfate-based surfactants, triclosan, mineral oil, propylene glycol, and DEA.
Orders are processed within 1-2 business days. Standard shipping is an additional 5-7 days. Expedited shipping is 2-3 days after processing.
Standard shipping is $5. Expedited shipping is $10.
All orders over $48 receive free standard shipping (or expedited for $5).

"I hate washing my hair so this is the perfect in-between product to use on the days I don't wash my hair, or when I'm traveling." - Nicole, Los Angeles

"After 3 days of trying these out, I give them a 10/10." - @ashbegash