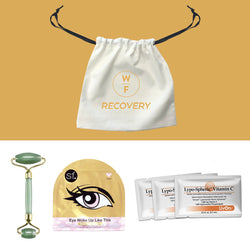 Wanderfuel
Recovery
This kit is a superstar trio of brightening and de-puffing skincare tools, plus immune system and natural collagen production support.
Kit contains:
Premium Jade Facial Roller
SF Glow Eye Woke Up Like This Mask
LivOnLabs Lypo-Spheric Vitamin C (3 pack)
Brighten

Banish dark circles and under eye bags in the most glamorous way! SF Glow's gold foil leopard mask contains plant-based collagen, watermelon & botanical extracts. Position the patches under each eye area. Leave on for 10-15 minutes. Remove and gently pat any excess product into the skin. Do not rinse.
Pro tip: pop in the freezer for a few minutes before applying to really chill out.
De-Puff

Follow eye mask with this premium jade facial roller to increase the cooling, soothing effect on facial skin, while promoting drainage and reducing facial tension.
We also suggest popping in the freezer before rolling!
-Start in the middle of the face and roll outward across the cheeks.
-Move to the eyebrows and roll upward across the forehead.
-Move below the lower lip and roll downward across the chin.
-Use the smaller end for more delicate areas and harder-to-reach places.
-Use the larger end for broad surfaces.
Fortify

Liposomal Vitamin C is not only essential for supporting the immune system, but has also been clinically shown to support your body's natural collagen production and reduce the appearance of wrinkles in 4 weeks.
Take one packet 1-2 times per day, on an empty stomach
Tear packet at the notches
Squeeze the entire contents of the Liposomal Vitamin C packet into 1–3 oz. of a cool beverage. Contents of packet will not dissolve.
Swallow in one gulp like a shot
Wait at least 15 minutes before eating